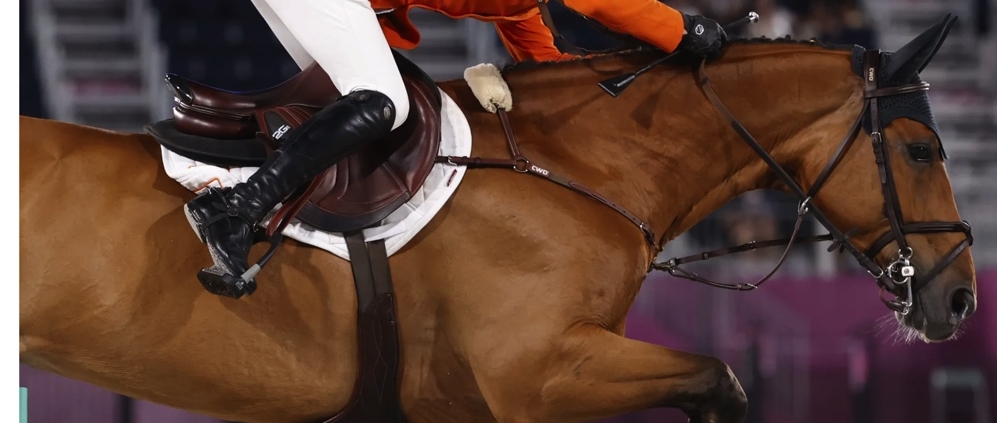 "Olympic Individual Bronze", what an achievement by Maikel van der Vleuten and his superstar Beauville (by Bustique x Jumpy des Fonteines x Andiamo. Breeder: Pascal Habets – Kerkrade).
Congratulations to Maikel van der Vleuten, breeder Pascal Habets (and Monique of course) and Team NL.
Special compliments to breeder Pascal Habets.
Pascal, as a former loyal customer of ours (now "Z" customer), brought his mare Iris (by Bergerac) to our topper Andiamo.
From this combination came the mare Pinxter (granddam Beauville). Pinxter went to our stallion Jumpy des Fonteines, and produced Wrinton (dam Beauville). This Wrinton was later prepared by us for the KWPN inspection. We presented her at the mare inspection and covered her by Bustique stationed with us.
Beauville came out of this combination, who was sold to us by Pascal at the age of 1 year.
In turn we sold Beauville to Niels Lenaarts, and from there we lost his track, until the moment that he had international successes under Maikel van der Vleuten.
The reason that Beauville, became Beauville  "Z" can be explained.
Pascal's life companion, Monique, was an employee at the secretariat of "Stoeterij Zangersheide".
Here is an article published at the "Z" magazine:
'BEAUVILLE Z IS A WONDERFUL STORY, ALTHOUGH IT'S NOT ALWAYS LIKE THIS'
Dutch National Coach Rob Ehrens waited till after CHIO Rotterdam to announce his Olympic Team for Tokyo. That team consists of Marc Houtzager (Sterrehof's Dante NOP), Harrie Smolders (Dolinn NOP) and Maikel van der Vleuten with Beauville Z, who steered Team Oranje to victory in the Dutch Nations Cup with two clean rounds. In early June Beauville Z and van der Vleuten finished second in the GCT GP of Valkenswaard.
That's what they call an Olympic report card of great merit. For 33-year-old Maikel van der Vleuten this is going to be his third consecutive Games. He took part in London (2012, VDL Groep Verdi TN) where he won Team Silver and in Rio de Janeiro (2016, VDL Groep Verdi TN). Initially, Maikel was selected for the Dutch Olympic shortlist with Dana Blue, with Beauville Z he was on the longlist. In March however, Dana Blue got injured at a competition in Doha and hence van der Vleuten set his hopes on 11-year-old Beauville Z, his other Olympic trump card who seamlessly promoted himself to the highest level and recently proved to be on top form. His Olympic ticket is a well-earned award.
PASCAL AND MONIQUE HABETS 
Beauville Z was born in Pascal and Monique Habets yard, the latter a former employee of Zangersheide. She closely follows the sport and then informs Pascal: 'Of course this was exhilarating and when you know that your breeding product is in the running you get your hopes up. Although I'm not as vividly preoccupied with it as Monique is. She was the one to break the news to me.' Pascal laughs. 'I have no idea why, but when I heard the news it spontaneously brought back memories of Beauville Z as a foal. What was he like? I called back to mind what he looked like then, but I cannot say that he was special or stood out. Could I see his Olympic qualities back then? Sorry, I'm not the person to say, I haven't got the knowhow. Early this year one of my clients told me that Beauville Z would go to Tokyo. Time has proven him right, but I was not in a position to predict that. It's simple, we do agricultural- and stock farming. We have plenty of work here at the farm and I cannot keep tabs of everything. Horses are our hobby. I have always owned horses: ponies, Friesian horses. During my school years there once was a time when I didn't have a horse for six months because I was too busy. That was not an option, I absolutely needed to have a horse again', Pascal smiles. He has never been a proper equestrian and following the sport is no priority. But still, he has the passion: 'The nice thing about breeding is creating new life, the foal that is born and watching it grow up. That's what I enjoy.'
EQUINE TEST CENTRE
'After I had been without horses for a spell it started itching again, so I looked for a broodmare and found one at the Coveco Equine Test Centre. A deliberate choice, I absolutely didn't want to invest a lot of money. At the Test Centre I saw a herd of some sixty horses and zoomed in on one mare, who now is Beauville Z's 3rd dam. A Lucky Boy daughter, at least, that's what she was professed to be. It's no surprise I suppose, everyone knows the stories, but later my mare turned out not to be a Lucky Boy daughter after all. I didn't mind though, I had a broodmare for a bargain price.'
GERT JAN VAN OLST
So Pascal had his broodmare, now the search was on for a suitable stallion. For that Pascal sought the help of Gert Jan van Olst. 'When like me, you are a hobby breeder then you have to bring in the knowledge, insights and experience of experts and that took me to Gert Jan van Olst. For hobby breeders it's important to have the support of a circle of professionals. When Monique worked at Zangersheide we sought their advice too, and that also worked out well. Before that I always looked for information and guidance from Gert Jan van Olst, which has always been very helpful. Gert Jan is an honest and reliable man. He gave his advice for a stallion choice and when looking at Beauville Z, that wasn't bad at all', Pascal laughs. 'Gert Jan often bought our foals. He recommended Bustique (Indoctro x Grannus) to us, Beauville Z's sire. When he was a yearling we sold Beauville Z to Van Olst. For us horses are a hobby, for Gert Jan it's a profession. He is also the one who can combine the horses to the right riders. Beauville Z was lucky to get Maikel van der Vleuten in the saddle, that obviously makes a difference.' Beauville Z is the fourth generation that was born in our yard. Wrinton (Jumpy des Fontaines) who is Beauville Z's dam, has given us several foals, although not all of them got the same opportunities as Beauville Z did. By now we have bred around thirty foals, on average one or two each year, but it doesn't always work out. Maybe because the mare doesn't get pregnant, sometimes the foal or mare dies. We have experienced it all. Beauville Z is a wonderful story, but it's not always like this.'
MAIKEL VAN DER VLEUTEN
Neither in Valkenswaard nor in Rotterdam was Pascal there to see his Beauville Z on the job, because of his own busy schedule. 'That's a pity I think. We don't really live that far away from Maikel but still, I have never visited him. I don't know him personally, people say that he is a very pleasant person. Maybe it's time to make that happen now. Then we'll get to see Beauville Z again, the last mental picture I have of him is when he left our place as a yearling.'
And then Pascal solemnly states that he is going to side-line his work for Tokyo: 'Doesn't that take place during the night? I'll happily stay awake for it then. I'm going to be his supporter, and who knows!?'
https://www.vanolsthorses.com/wp-content/uploads/2021/08/CEAD8B5F-ED11-4D79-A7E0-253CEC1A8107.jpeg
770
997
Niek
https://www.vanolsthorses.com/wp-content/uploads/2019/01/Logo-Van-Olst-Horses-Header-website.png
Niek
2021-08-04 15:00:04
2021-08-05 06:03:08
Proud on Beauville (s. Bustique)