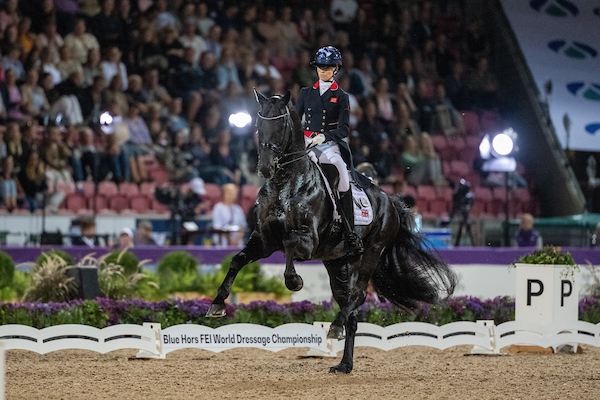 Herning 2022 will go down in the history books for Van Olst Horses with capital letters. After a thrilling finale in the freestyle to music, with goosebumps, nail biting and a lot of emotion, Charlotte Fry has become World Champion in the freestyle with Glamourdale!
The best 15 combinations from the Special started in the final of this World Championship. Lottie was 13th to start, followed by the Dutch Dinja van Liere and the Danish Catherine Laudrup-Dufour.
With a brand new Freestyle called "Best of Britain", composed by Joost Peters, Lottie started her test. To the sounds of God save the Queen, she entered the ring at A. After a perfect halt, it continued to the sounds of Queen in an unparalleled passage. The public enjoyed the music and the combination in the ring and did not hide this during the test. The oh's and ah's regularly filled the stadium and people spontaneously started singing along to the well-known British melodies. Peak after climax followed one another, the climax rose towards the end of the test. The canter part was exceptional, the audience 'flabbergasted' from the extended canter and two tempi's.
In the last A-C line, the whole stadium, filled with more than 10,000 people, started clapping to Another one bytes the dust by Queen. The closer the duo got to the C, the more enthusiastic the audience became. The last part of the test, again to the sounds of God save the Queen was the pirouette in piaffe. The crowd went on there feet, cheered and clapped and absolutely loved it!
What a test! That the jury enjoyed it was clear from the score: 96.914 for the artistic part and 84.392 for the technical part, the score came to a fantastic 90.654%.
And then the waiting began…. It was exciting until the end, but when Catherine Laudrup – Dufour's score finally appeared on the scoreboard, Charlotte Fry and Glamourdale were truly World Champion in the Freestyle!
Watch the test here: https://www.youtube.com/watch?v=ohr_Vex4m4c
Photo: Jon Stroud
https://www.vanolsthorses.com/wp-content/uploads/2022/08/Galop-Kur-klein.jpg
400
600
Niek
https://www.vanolsthorses.com/wp-content/uploads/2019/01/Logo-Van-Olst-Horses-Header-website.png
Niek
2022-08-11 11:28:45
2022-08-11 11:37:23
A dream come true