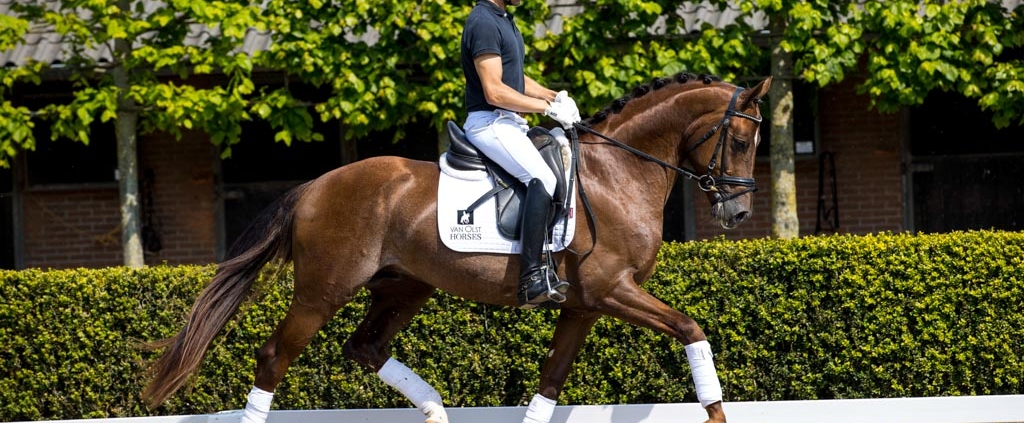 Dutch stallion owner Gert-Jan van Olst and his wife, Danish Olympic dressage rider Anne van Olst, are proud to present their first "
online edition
" of the Van Olst Sales with a collection of 10 home reared and trained young dressage horses.
Bidding starts on 5 June and will end on 8 June 2020.
Due to the corona pandemic upending the normal order of affairs this year, the Van Olst Sales have undergone a transformation in format, adapting to the needs and current Covid-19 restrictions for riders and owners world wide.
"Knowing that live auctions with an audience are utopian at the moment, we decided to change the format of the auction as well as the type of collections that we are offering," Gert-Jan van Olst. "The first collection for 2020 includes young 3 and 4-year old horses from our own breeding and rearing program and we'll auction them online at www.vanolstsales.online."
Rescolar (by Escolar x Sir Donnerhall)
The "Online Van Olst Sales" features a small collection of ten professionally trained, home reared youngsters, fulfilling the demands of dressage riders that are seeking affordable and trainable young stars with promise for the future."The first group of horses that we are selling online are well trained, well bred youngsters with potential for the future," said Gert-Jan. "We aim to offer horses for all segments of the markets and are realistic that the market cannot always afford or ride mega stars. This collection has ten wonderful young horses that will appeal to a very large group of dressage riders."
Try Out, Vet Report, Bidding
All horses can be tried out on appointment at Van Olst in Den Hout, The Netherlands, carefully complying with the corona regulations of social distancing and hygiene. Please make an appointment for a try out.
All horses have been fully vetted and meet the demands of the KNMvD.
X-rays and vet reports can be viewed on request at info@vanolstsales.online.
To bid on a horse, register here. Total discretion is guaranteed. Your name will not be shown online in the bidding process.Online Foal Auction
Van Olst Sales will hold several online auctions this season. After this 5 – 8 June Van Olst Sales of riding horses, a foal auction will follow.
"As the Limburg Foal Auction no longer offers dressage foals and the auctions in Maren Kessel and Deurne are cancelled, we will step in and offer an online sales platform to help our breeders and buyers," said Gert-Jan.
Breeders can register their foal for the next Van Olst Sales Online Auction at www.vanolstsales.online. They can have their foal filmed and photographed for the auction catalogue at the stable in Den Hout. The dates will be announced soon.
Check out the collection of 10 riding horses at www.vanolstsales.online
https://www.vanolsthorses.com/wp-content/uploads/2020/05/Rescolar-draf-internet.jpg
683
1024
Niek
https://www.vanolsthorses.com/wp-content/uploads/2019/01/Logo-Van-Olst-Horses-Header-website.png
Niek
2020-05-28 08:53:02
2020-05-28 09:14:58
2020 Van Olst Sales Goes Online with Collection of Lovely Young Riding Horses